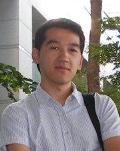 Aziz Murtazaev
Aziz Murtazaev
Email
muraziz at gmail.com
After graduation
Engineering Lead at Ami | ex-Facebook, England
Publications
2012
5.
A Novel Parallel Architecture Design of Information Retrieval System for Scientific PapersJournal Article
In: International Journal of Software Engineering and Its Applications, vol. 6, no. 2, pp. 107–112, 2012.
4.
SciPDFIndexer: Distributed Information Retrieval System using MapReduceConference
International Conference on Information Science and Technology, 2012.
3.
PDFindexer: Distributed PDF Indexing system using MapReduceJournal Article
In: International Journal of Internet, Broadcasting and Communication, vol. 4, no. 1, pp. 13–17, 2012.
2011
2.
Sercon: Server consolidation algorithm using live migration of virtual machines for green computingJournal Article
In: IETE Technical Review, vol. 28, no. 3, pp. 212–231, 2011.
2010
1.
A Survey of VirtualizationTechnical Report
no. Technical Report AJOU-CSE-WISE-2010-003, 2010.